WHAT TYPE OF MATERIAL IS BEST FOR GARAGE DOOR?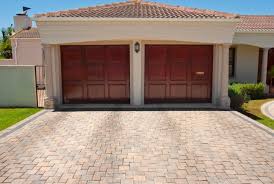 Selecting the right garage door material is very important if you want it to last for a long span of time.
Besides this, it needs a right mix of cost, functional and aesthetic considerations.
So, if you are a homeowner, then there are a wide range of styles and materials available for you to select.
But, the next thing that you need to do is hire a good Highland Village garage door company such as highland village roofing pro who can help you out with your choices.
They have great expertise in Highland village garage door repair and installation and therefore they can get the job done for you in the most efficient way.
Let us know look at the main aspect of this blog i.e. the types of material that is best suited for a garage door.
Wood without any doubt creates one of the richest-looking garage door. Besides this, it comes in different kinds of look which includes grain patterns, color and textures.
In addition, wood can also be milled or carved into different kinds of patterns and it can also be stained or painted depending on the preference of the homeowner.
However, you should keep one thing in mind that wood is comparatively more expensive than vinyl and it is also suspectable to certain insects and weather.
But, if you are looking for an elegant design, then nothing is better than wood.
Steel is quite strong, durable and surprisingly quite economical. But, in order to avoid rusting, it needs to be painted clad or powder-coated.
In addition, steel doors can easily mimic painted wood doors through-on grain and it can also be insulated to fight against sound, wind and temperature infiltration.
Aluminum is comparatively lighter than steel and it can also be constructed similarly to a painted door.
The best part is that aluminum is resistant to rust and dents and therefore good quality aluminum garage door costs more as compared to steel doors.
If you want a garage door to be made using less costly material but have the same kind of look and durability as wood, then Fiberglass doors is perfect for you.
It can easily resist moisture and insects and at the same time, it is less prone to warping as compared to wood.
Vinyl is an excellent choice for a person who is looking for a lightweight material. In addition, Vinyl provides great durability throughout the year.
Overhead glazing garage door is available in a number of materials and styles which includes acrylic, Lexan and glass among others.
The best part is that it is available in different kinds of styles and therefore you can select any one of them which matches with your property.
Hire us now for top class garage door installation and repair
Just in case you are looking for top class garage door installation and repair in Highland village, Texas, then look no further than Highland village roofing Pro.
Get in touch with us through call or email to hire us today!